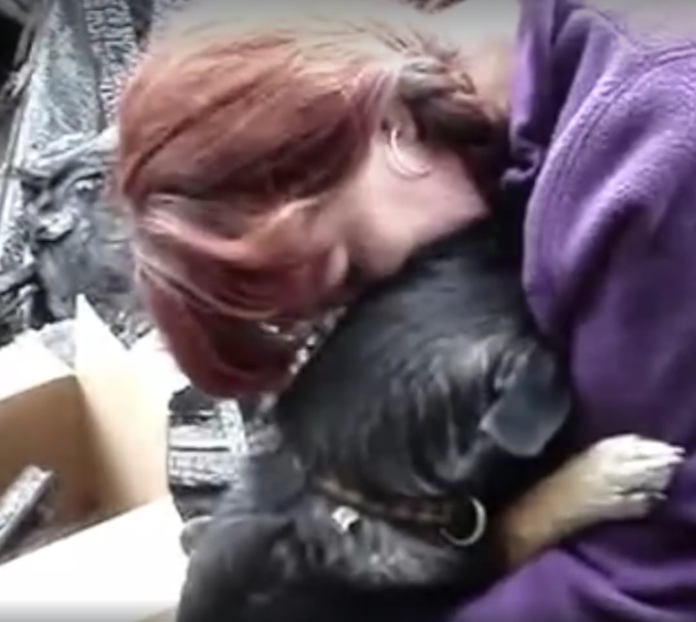 The couple were comforted by their dog in return
A woman named Cynthia Arrington and her family were struck by tragedy when a fire destroyed their home while they had been out of town.
She and her husband Ralph had been on vacation when arsonists burnt down their building, the historic Grisso Hotel – it was their home and source of income for the two.

The iconic downtown building was built in 1927, and was in the midst of renovations when the fire broke out. When Cynthia and her husband returned and saw the damage down, it drove the couple to tears of despair.
During that difficult time, their dog Monty was there for them, and comforted them in his very own special way! This touched Cynthia's heart, and she responded back with a hug!
Cynthia took to Facebook to share her story in 2011: "The posted hugging video is of my wonderful loving dog Monty sharing our heartbreak over the total loss of our home and business. My husband took the video while we were all still in a state of shock. We lost everything, home and business in this arson that happened on Easter Sunday while we were visiting family out of state. We were never able to rebuild and have had to start all over from scratch. It has been a long road but we take one step at a time," she explained. "There is much to this story, the arson and the people involved. We are still pursuing justice. Monty is still the guardian of our family and we love him dearly. Thank you for loving him too."
Watch the touching scene happen in the video below!

Think your friends would be interested? Share this story!
What do you think?
Comments
comments