It was a miracle this happened.
Local animal rescue and welfare organization Hope For Paws had received an SOS phone call which concerned an animal in need. The case was special this time, though, as its not just any other stray who needed to be rescued. It concerned a dog named Edna, and her registered owner as well!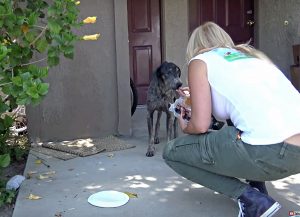 The starving dog had been found all alone in the mountains by herself. Animal Control had previously attempted to capture the dog several times over the 2 years she was reported missing, but failed to do so.
While one of the staff, Joann Wiltz offered Edna food, another named Lisa Arturo managed to slip a lease around her neck. Although their sudden actions startled Edna at first, she continued to eat the hamburgers she was offered after seeing that they had meant no harm. With the assistance of a resident living nearby, Edna was brought to safety and back to headquarters.
With the aid of an embedded microchip, rescuers were able to contact her former owner, and inform her that Edna was alive. However, she had previously given Edna away to a couple, who then lied to her that Edna was dead. The former owner then pleaded with Hope For Paws to help rehome her. After settling down in a foster home with Doggies 911, Edna was successfully adopted – a few weeks later. Today, she's the happiest dog alive – with love all around her!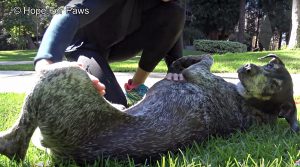 Watch Edna in the video below!
Share this story!
Comments
comments