Three tiny puppies were found trapped in a pool of tar. The poor souls couldn't even move an inch. Luckily, they could gather some strength to let some cries for help.
Once someone heard them whimpering, they alerted the rescuers at Animal Aid Unlimited who are always more than happy to go above and beyond for every animal in need of help.
When they came to the scene, the rescuers tried pulling the puppies from the tar but it was almost impossible. Knowing they had to act very quickly if they wanted the babies to survive, the quick-thinking rescuers pulled the entire slab out.
Finally, after working hard to release them, the pups were half cleaned and ready to be transported to the facility where they were about to receive additional cleaning and help. They were hungry and thirsty, but at least they were alive.
Getting rid of the entire tar would take a lot longer, but the pups seemed to be enjoying the rubbing and the oil massage.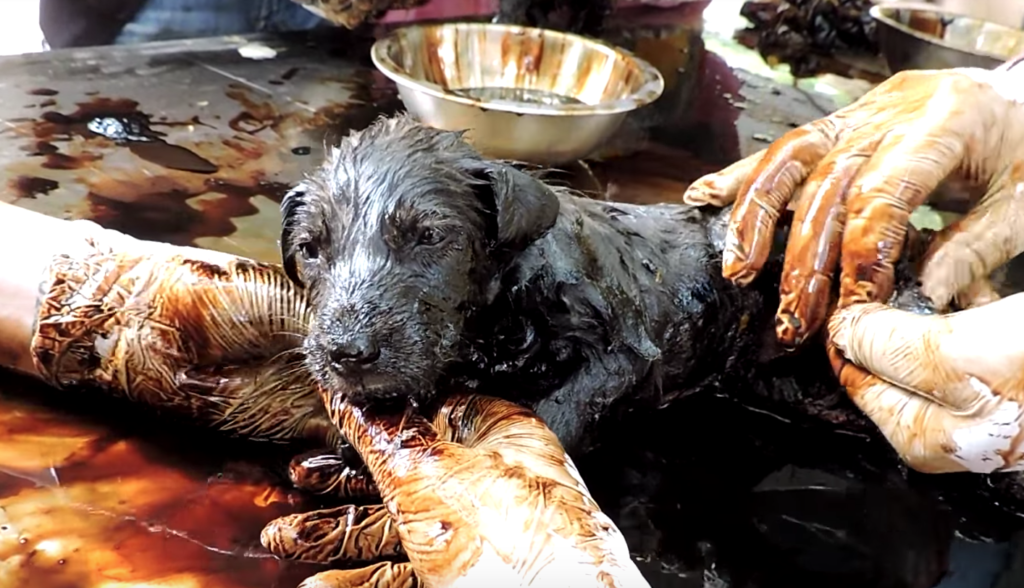 The cleaning lasted for a couple of days, and the brave pupps loved all the affection they got from the people who gave them new lease on life.
The best thing of all is that the cutie pies were later reunited with their mother.
You can take a look at the whole story in the video below.
Story Source: Online
Read More Stories:
The Story of Augustus – A Walking Skeleton Undergoes An Amazing Dog Transformation
Pack of stray dogs approach teens and beg them to help.
Family discovers the terrible truth about an abandoned Great Pyrenees

Comments
comments