When Ninna Madin, a 26-year-old animal lover from Rio de Janeiro, Brazil, fell in love with her fiancé, she knew it was going to be forever. He was a loving and caring man whom she welcomed into her and her dogs' life. In front of her, he always treated the French Bulldogs well. He had seven dogs on his own and Nina was convinced she could trust her fur babies to him whenever she was out of home.
Things looked great until she noticed her dogs were scared of the love of her life. She was confused because she knew how nicely he treated them. But, she also knew something was really wrong, and her intuition didn't fail her.
"They became really scared of him. After that, the wounds started to appear and the vet couldn't explain where they were coming from. That's when I decided to install a camera in the living room," Ninna said.
It was then when Ninna decided to install a camera in her house and see what is going on while she's away. What she had to see chilled her blood. Her fiancé hit and kicked her dogs and grabbed them in a violent manner. After seeing the gruesome footage, it didn't come as a surprise that the poor souls were terrified of him.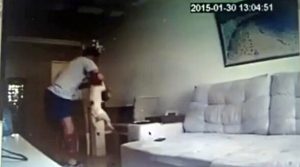 Ninna realized she was marrying a monster. And she just knew she couldn't spend the rest of her life with such a cruel man.

This brave girl did what she had to. She called off the wedding and was courageous enough to post the footage on the social media asking from people to sign a petition so that her ex could be charged with animal cruelty and animal abuse.
The way he treated her loving dogs made all the love she felt for him disappear instantly.
Luckily, the dogs didn't sustain any permanent injuries and are now doing great. But who knows what would have happened to them if Ninna didn't trust her guts that something huge was taking place behind closed doors.
Ninna's petition was signed by more than 30.000 people so far, and although officials haven't pressed charges yes, we do hope they will do it as soon as possible.
As for Ninna's ex, he's been on the run ever since the footage has gone viral.
Photos courtesy of Ninna Mandin, Facebook
Story Source: Online
Read More Stories:
The Story of Augustus – A Walking Skeleton Undergoes An Amazing Dog Transformation
Pack of stray dogs approach teens and beg them to help.
Family discovers the terrible truth about an abandoned Great Pyrenees

Comments
comments