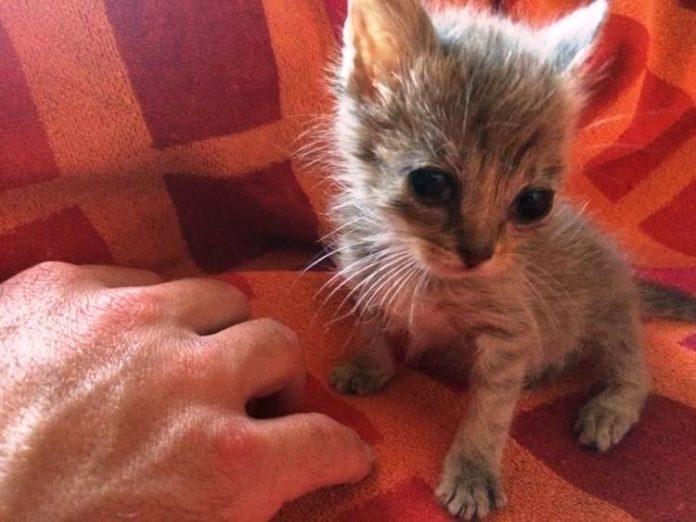 This kitten was abandoned and had ants all over his body..
In early February this year, a four week-old kitten had been found wandering the streets of North South Wales in Australia. The poor kitten had been suffering from starvation and was too weak to even stand on his own. In addition, multiple ants have been crawling and biting the poor kitten, leaving him helpless. When a man saw him, the kitten could not even keep his eyes open. Alarmed by the kitten's critical condition, he brought him back home to clean him up and get rid of the ants on his body. He also named the kitten "Gaius".

As Gaius needed help to survive, the man brought him to a local rescue group called Cat Rescue 901 for help. At the rescue, the staff were shocked to find that Gaius was severely underweight, weighing only half a pound. His starvation lead the staff to conclude that the kitten must have lost his mother before he was weaned and had been on his own for awhile.

The staff immediately started to feed Gaius and gave him ample blankets to keep him warm. But they could only do so much, the rest was up to Gaius himself. Much to everyone's relief, Gaius had gained 25% of his weight overnight!

Within a span of four days, the kitten continued to gain weight until his weight was normal for a kitten his age. He had also gained some energy and was able to move around on his own.

Although Gaius is still a little fragile, he is already well on the road to recovery. Once Gaius is healthy and old enough, he will be available for adoption. It would not be long before he finally has a forever home!

Think your friends would be interested? Share this story!
What do you think?

Comments
comments