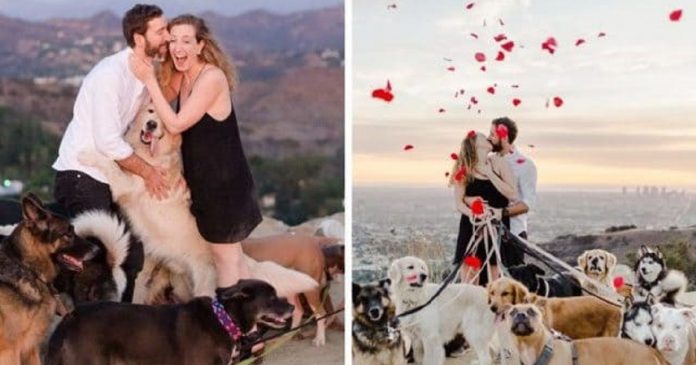 When it comes to a marriage proposal, this is possibly one of the most memorable days of your life. Most people expect a proposal which will be said in a romantic scene with candles and flowers. However, a man named Maurice Goldstein came up with a creative and unique idea to propose his girlfriend, Laura Stampler. No one could imagine that he surprised her with 16 adorable dogs.
Stampler had been dating Maurice Goldstein for over four years. The couple lives in New York City, but was visiting family in Los Angeles for the Thanksgiving holiday. So, Goldstein decided to propose Stampler on this occasion.
Goldstein asked Stampler to join him for a hike in Runyon Canyon Park. About 15 minutes into their hike, Stampler realized something special on the trail.
"I saw the rose petals and I see a group of figures and it's just like, all of a sudden … you know," recounted Stampler. "And I just started hyperventilating and crying."
Goldstein got down on one knee and proposed. Stampler said yes and the couple kissed as the a Capella group sang Motown hits and Disney classics.
"When we were kissing, all of a sudden all of these dogs were unleashed and started running towards me," recounted Stampler.
As a huge dog lover, Stampler was so distracted by the herd of canine cuties. She was so happy and cuddled all the dogs. She even forgot to put on her new ring.
Comments
comments