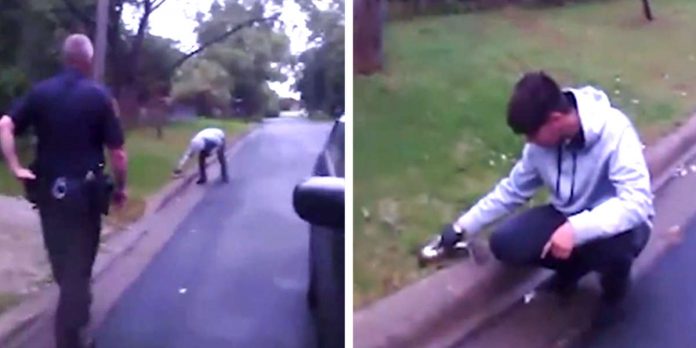 The Police officers from the Brooklyn Park station were patrolling around the city when they noticed a car with an open door left on the side of the road. They had no idea what was going on so they immediately got out of their vehicle to make sure everything was fine.
That's when they saw young Cristopher Felix, a college student from Brookllyn Park, Minnesota, giving CPR to a little creature. When they approached even closer, the 19-year-old boy explained how a squirrel ended up under his vehicle. Cristopher wasn't sure if he actually hit the animal, he only knew that he had to take care of it.
When the officers saw Christopher helping the poor thing they were thrilled. Not many young people nowadays are as compassionate and as kind as this boy. One of the officers caught everything on tape. Everyone who got to see this boy's act was grateful for what he did for the squirrel.
Christopher later tell the Dodo how he felt really bad for what happened. He said, "All I was thinking about was just to try to help the squirrel out, because I just thought that would have been the best thing. The poor squirrel wasn't able to move, so I pick it up with my glove, set it on the grass and started to do chest compressions."
Fortunately, Chritopher's attempts to save the squirrel resulted with a positive outcome and the lovely creature could be seen running into the woods.
"I was very happy to help out something so little. It's a life that is saved," he said. "I'm glad I was there to help it that day. I was super happy to help it and so were the police that saw it with me."
We hope many people will find inspiration in this young man's deed and will follow his example of always helping an animal in need.
Below is the video.
What do you think?
Comments
comments