Liza the Pit Bull had been a shelter all her life, right after he own mother was rescued from a life on the streets – while pregnant and in poor health. At a mere age of 13 weeks old, Liza became newly adopted, thanks to a woman named Debi Kolak. Kolak had another older canine named Mona, whom Liza very quickly befriended and eventually, depended upon.
Mona and Liza were inseparable for 2 whole years, but it was not meant to be in the end. Sadly, Mona had crossed the rainbow bridge last fall, and her death had left Liza completely depressed and heartbroken.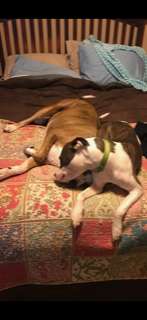 Kolak moved in with her boyfriend Joel in December, with Liza now living with his two senior Jack Russell terriers. Despite new company, Liza never cheered up, and could not forget about Mona. Furthermore, the two senior dogs' quiet and calm personalities clashed with Liza's high-energy demeanor. Kolak wanted to adopt a new playmate for Liza, and discussed with Joel about it. He said no however, as he was skeptical if they could handle yet another dog.

Despite Joel saying no to her initial suggestion, Kolak researched about a few different animal shelters in the area anyway. She found one eventually, and brought Liza along with the intention of adopting. Staff listened to her request, and proceeded to facilitate meetings with the pair – until Murphy came along.

Poor Murphy had one of the longest stays at the shelter – for 5 months. He had been rescued as a stray dog, and had never been successfully rehomed – he even got returned by families 3 times! He looked very defeated, and it did not match the ideal profile of an active and cheerful canine sibling whom Liza would want to play with.

"Murphy was sad.. defeated-looking. He had a large scar on his head. He didn't bark, or run to the cage. He just sat there, pressed against the chain link of his tiny kennel. I sat on the floor, put my hand up to the fence and talked to him. He nibbled at my finger and barely thumped his tail. I immediately thought, 'There is no way this guy is a match.' But I was drawn to his pitiful face,"  Kolak recalls.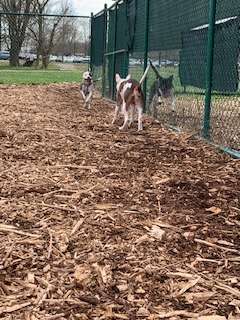 Even though Kolak had doubted Murphy's personality, she requested that the volunteers bring him and a few others out into the yard for a meeting with Liza. It was up to Liza to choose whom she wanted as her new friend, and she chose Murphy as soon as she met him.  It was as if the two dogs shared an instant connection with one another. Kolak had even successfully convinced Joel to bring Murphy home after seeing how the 2 dogs had bonded.

Both Kolak and Joel proceeded to enroll themselves in the shelter's "Take A Chance On Me" program, in which 3 whole days would be given as a grace period in order to see if the adopted dog would be able to adjust and get along with its new family. Turns out, there was never a need for a 3-day trial after all – Murphy had found his new forever home, with Liza supporting him all the way.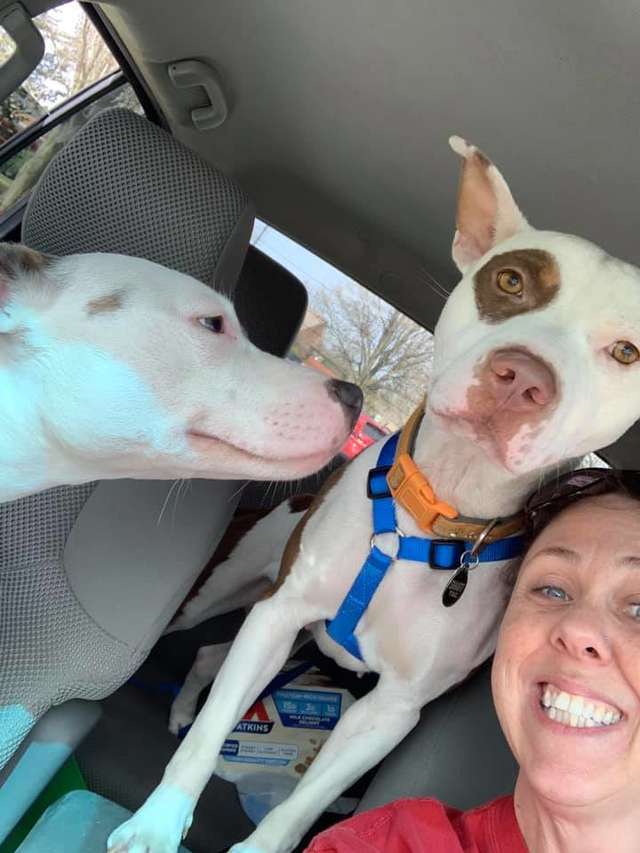 "I called the shelter, and told them that I wanted to finalize his adoption -and they all cried and cheered. I got him at no charge due to him being there for so long, and they are giving us free transition training classes to help him learn trust and how to be part of a family. I'm excited to see how he does, and I'm excited for him to finally realize that he is home for good,"  Kolak remarks happily.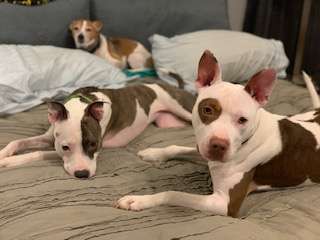 Since then, Murphy has adjusted extremely well at home, loves following his new owners around (especially Joel), and playing with the rest of his canine siblings!

Share this story

Comments
comments